Recent/Upcoming shows: (Please Note: for the most current information, please ask to be put on my mailing list, by emailing contact@deanradinovsky.org !!

"Chapel Incidentals"
Artwork by Dean Radinovsky
generated in the process of creating his walk-in installation "Chapel Americana"
Posey Baker
167 5th Avenue (Park Slope), Brooklyn, NY
October 26, 2007 through January 6, 2008
Opening Reception: Friday, October 26, 6 - 9 pm
Gallery Hours: Thursday - Sunday, 11am - 7pm
Pictured above: "Process Entomology"
Oil paint on cellophane, pins, entomological collection box. Dean Radinovsky, 2006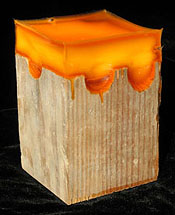 "The Artist's Process: Materials As Inspiration"
Sculptures, Prints and Paintings by Dean Radinovsky
Next Gallery at Metropolitan College of New York
75 Varick/One Hudson Square, 12th Floor, New York, NY
SHOW EXTENDED: open through January 4, 2007
Opening Reception: Saturday, November 11, 2006, 5:30-7pm (photo I.D. required for entry)
Gallery Hours: Monday - Saturday 9am-8pm (photo I.D. required for entry)
Pictured above: "Repaired Wood #2: Camel"
Wood, wood glue, 5 1/4 inches x 3 1/2 inches x 3 1/2 inches, 2006
Open Studio, Chashama 57th Street Studios
the old Artkraft Strauss building, 830 12th Avenue between 57th and 58th Streets, New York, NY
September 24, 2006, 1pm-9pm. Free and open to the public.

Pictured above: "Chapel Americana" (in progress)
Masonry wall, vintage coffee mugs, Christmas lights, oil on 14 panels.
13' x 12' x 17' Dean Radinovsky 2006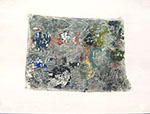 "paint/dance," July 12 - August 20, 2006
Posey Baker Interiors, 167 5th Avenue, Park Slope, Brooklyn, New York
Opening Reception Wednesday, July 12 from 6 - 9 pm. Free and open to the public.
Hours: Tues-Sun 11am - 7pm
More info: Karin McNair 718.623.2000 or karin@poseybaker.com
By Subway: R to Union Street; 2,3 to Bergen Street or 2,3,4,5,N,Q,D to Atlantic Avenue/Pacific Street

"New Arts Program Invitational Salon Exhibition of Small Works," May 26-July 15, 2006
173 W. Main Street, Kutztown, PA
Opening Reception Friday, May 26, 6:30-9pm, Open to the Public. (610) 683-6440



"The Spirit of Dance," April 1 - April 30, 2006
Queens Theatre in the Park, Flushing Meadows Corona Park, Queens New York
Opening Reception Saturday, April 1 from 6:30 - 8 pm. Free and open to the public.
Gallery Hours: Tues-Sat Noon - 6pm and one hour prior to scheduled performances.
More info: (718) 760-0064 (Tues-Sat 12pm - 6pm)
By Subway: #7 train to Willetts Point Shea Stadium, walk (about 20 minutes)
or use free shuttle bus available beginning at 5:30 on April 1,
and one hour prior to performances all other days.
By Car: Grand Central Parkway to exit 9E from Manhattan
or exit 9P from Long Island. Free parking in adjacent lot.

"New Arts Program Invitational Salon Exhibition of Small Works," May 27-July 23, 2005
173 W. Main Street, Kutztown, PA
Opening Reception Friday, May 27, 6:30-9pm, Open to the Public. (610) 683-6440

"Visual Aids," Brent Sikkema Gallery, New York, NY 2004

"Resolve at 40 Worth," Curator Mark Stone. New York, NY 2004

"Collaboration 1: Chashama in Philadelphia," Creative Artists Network, Philadelphia, PA 2004

"Murderers and Prophets: Artists' Personal Reactions to the King James Bible,"
CBGB's 313 Gallery, New York, NY 2004




Back to Main Menu